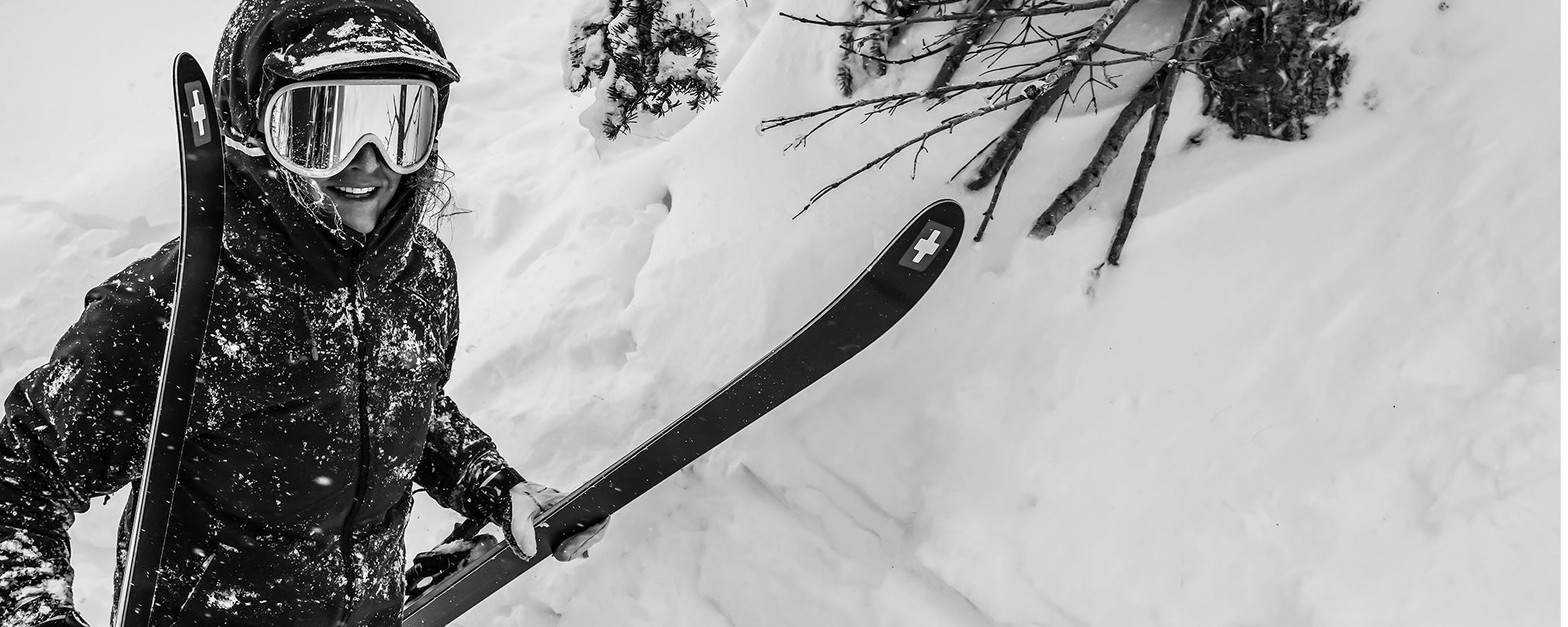 WATERPROOF & BREATHABLE technology
torain® BY TORAY INTERNATIONAL INC.
combining fabrics, membrane, seam tape, and sewing technology for
wATERPROOF gear built to last
AKOVA is our newest brand, but we've been designing, testing, and producing award winning expedition & winter sports gear for 19 years. We have either field tested or made products with waterproof and breathable fabrics from every major supplier over the years. We are constantly monitoring for new waterproof and breathable fabric technologies, and testing them ourselves in the mountains as quickly as we can get our hands on them. We evaluated all of the waterproof and breathable fabric options on the market for this product development. We made our decision based off real world testing and the entire makeup of the product.
Our goal has been clear, develop the ultimate winter kit for Men & Women that would not only perform better for extremely high output athletes in the harshest conditions, but also last longer than other gear on the market. We were not restricted by price. We were free to chose whatever materials we believed would work the best for long lasting, top performing, winter sports gear.
The three most important things to us when selecting a waterproof & breathable fabric were:
Durability & Longevity - we want to build products that last and don't have to be trashed every 2-3 seasons because they are no longer waterproof or breathable. Products that last longer can reduce waste and CO2 emissions caused by the production of new goods. Products that maintain their waterproof and breathable performance keeps gear out of landfills. Once the original owner is done with a product they can turn it into our renewal program for a discount on new gear. The old gear will be cleaned, repaired if necessary, and resold as used gear.
Real World Waterproofness & Breathability – We put our prototypes and samples through the ringer. We do not solely rely on lab testing results. We want the fabric that performs for us in the mountains, in all conditions.
Stretch – For elite athletes and everyone else to perform at their best our fabrics must provide full freedom of movement.
TESTED TO THE EXTREME BY OLYMPIC CHAMPIONS
DAVID WISE & JULIA MANCUSO
All the different waterproof and breathable fabric manufacturers provide varying waterproof and breathability ratings that are generated in labs. You are probably used to seeing these in product descriptions. However, through our 19 years of selecting and testing waterproof and breathable fabrics we have experienced that high lab ratings don't always translate to higher performance in the mountains. A fabric, for example, may do well at moving 20k grams of water vaper through a membrane during a 24-hour period in a controlled lab, but what happens to that performance when you add wet snow, driving rain, wind, abrasion, increased body heat, excessive sweat, body oils, dirt, etc. Not to mention the layers underneath the membrane need to be highly functional at moving sweat in a liquid form out through the layers and turn it into vapor form for it move through the membrane. None of these things are present or accounted for during lab testing, and they can cause the best performing waterproof and breathable membranes from a lab to utterly fail in real world use. Lab testing is not accounting for the type of membrane, the composition and how it performs the functions of waterproof and breathability. Lab testing does not account for variable temperatures and humidity levels inside and outside of the product. Labs are controlled and sterile. Our athletes while they are out pushing the limits in the mountains are not.
When you look at lab ratings of waterproof and breathable fabrics you aren't getting these answers. Additionally, there is no governing body that is overseeing and regulating this waterproof & breathability testing. Conditions, testing equipment, and procedures vary and can be manipulated to create the desired results. A laboratory generated waterproof & breathability rating is just a small piece of the equation. It gives us a starting point for evaluating different fabrics, but for us, our decision on which waterproof and breathable fabric to use was not based on a lab number. It was based on what functions the best during our extended real-world testing conducted by Olympic Champions David Wise, Julia Mancuso, and members of our team.
picking the right partner
toray international INC
Toray International Inc., based out of Japan, has a vertically integrated structure that gives them a unique ability to design and produce custom textiles that solve specific real world issues. Like, creating a better waterproof & breathable layering system for winter sports. Torain is a garment concept created by Toray International Inc., that brings together a unique combination of fabric, membrane, seam tape, and sewing technology for elite performance in a wide range of conditions and exertion levels paired with unmatched durability and longevity. The goal was to create a windproof, waterproof & breathable product that can last for years.
After 1-2 seasons average waterproof and breathable gear begins to fail due to hydrolysis (the embrittlement of the resin film used for waterproofing). Someone may continue using it for another season or two after that, but the waterproof and breathable performance has been compromised. Once hydrolysis has occurred, the product is no longer waterproof, cannot be fixed, and must be discarded or preferably recycled (if possible). The short lifespan of these products, combined with the need to constantly produce more products, is bad for the environment, and it is expensive for consumers.
We've extensively field tested Torain over numerous years through every condition imaginable. Winter storms, cold winter rains, skiing, snowboarding, hiking, spring skiing, warmer spring rains, mountain biking, fly fishing, etc. AKOVA Co-Owners and Olympic Champions David Wise & Julia Mancuso have been testing prototypes of what ultimately became their signature product lines. David and Julia bring a combined 35 years of professional skiing experience and competing all over the world, in all conditions. During testing, we directed them to try to break every sample and prototype. Push it past the limits. Work as hard as you can to test the breathability. Go out in the worst storms to test the waterproofness. If it wasn't the best feeling and performing gear that they had ever worn, then we would scrap it and start over. Not only did they test it free skiing, but David also wore his prototypes all year while training and competing at the highest level for superpipe skiing all over the world. Having David competing on the world stage, in prototypes, admittedly was stressful. We strove to improve his performance through the gear he was wearing. The thought of a prototype failing on him during competition was unimaginable. We are extremely proud that he wore his AKOVA prototypes onto the podium 3 times last season, including an X Games gold medal. The abuse he delivered to the gear throughout his training and competing is a testament to the durability and performance of the Torain technology.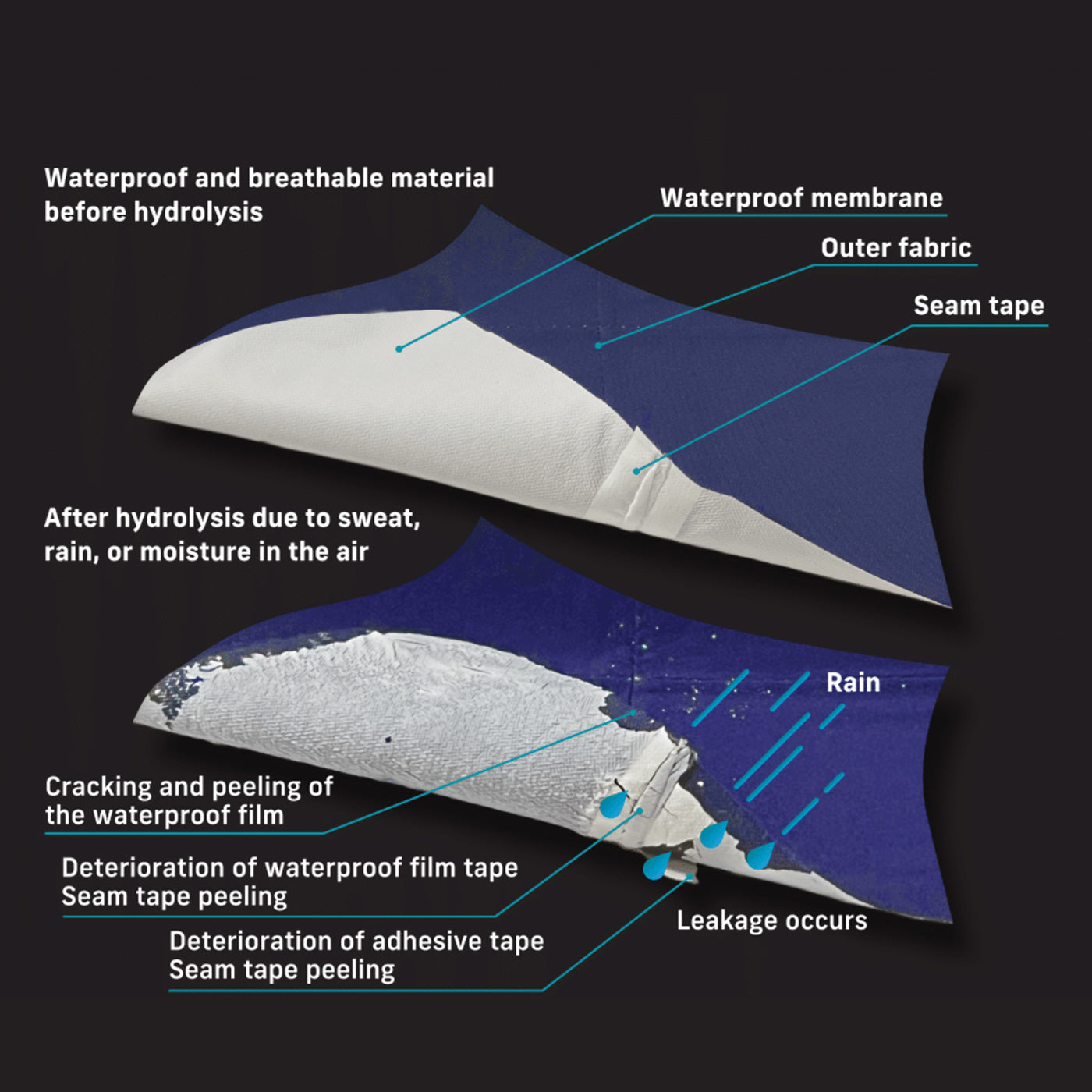 deterioration of waterproof gear caused by
hydrolysis
Torain combines state-of-the-art proprietary technology to enable longer cycles of wear and resist hydrolysis better than anything else we have ever found.
Hydrolysis is a decomposition reaction that occurs when water, such as sweat, rain, or moisture in the air, acts on a compound. The resin material used for waterproof membranes and seam tapes from other waterproof and breathable gear has water resistance but is easily hydrolyzed. When hydrolosis occurs, it becomes tattered and peels off or the surface becomes sticky. The hydrolyzed compound decomposes, and the damage has been done.
Many winter jackets either have a layer of insulation or a backer fabric, so you may not be able to visually see what is happening inside, but you would certainly notice the diminished waterproof and breathability performance from the hydrolysis.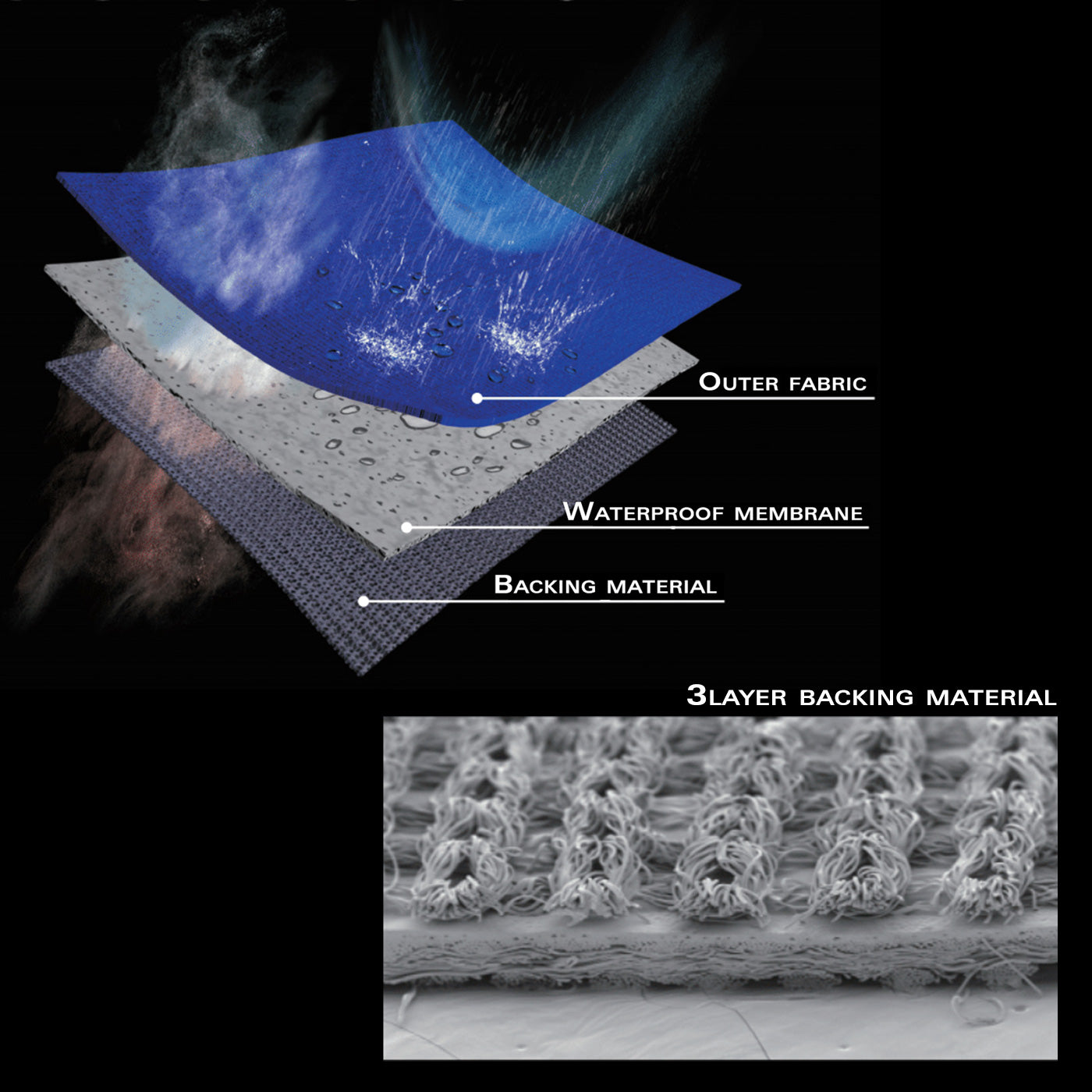 fabric construction
Integrated 3 Layer
3 layer waterproof and breathable fabrics provide more durability and longevity than 2 and 2.5 layer fabrics.
Often times the different layers of a 3 layer fabric come from different sources. With Torain all three layers are developed in unison by Toray International Inc. to maximize their performance and functionality together.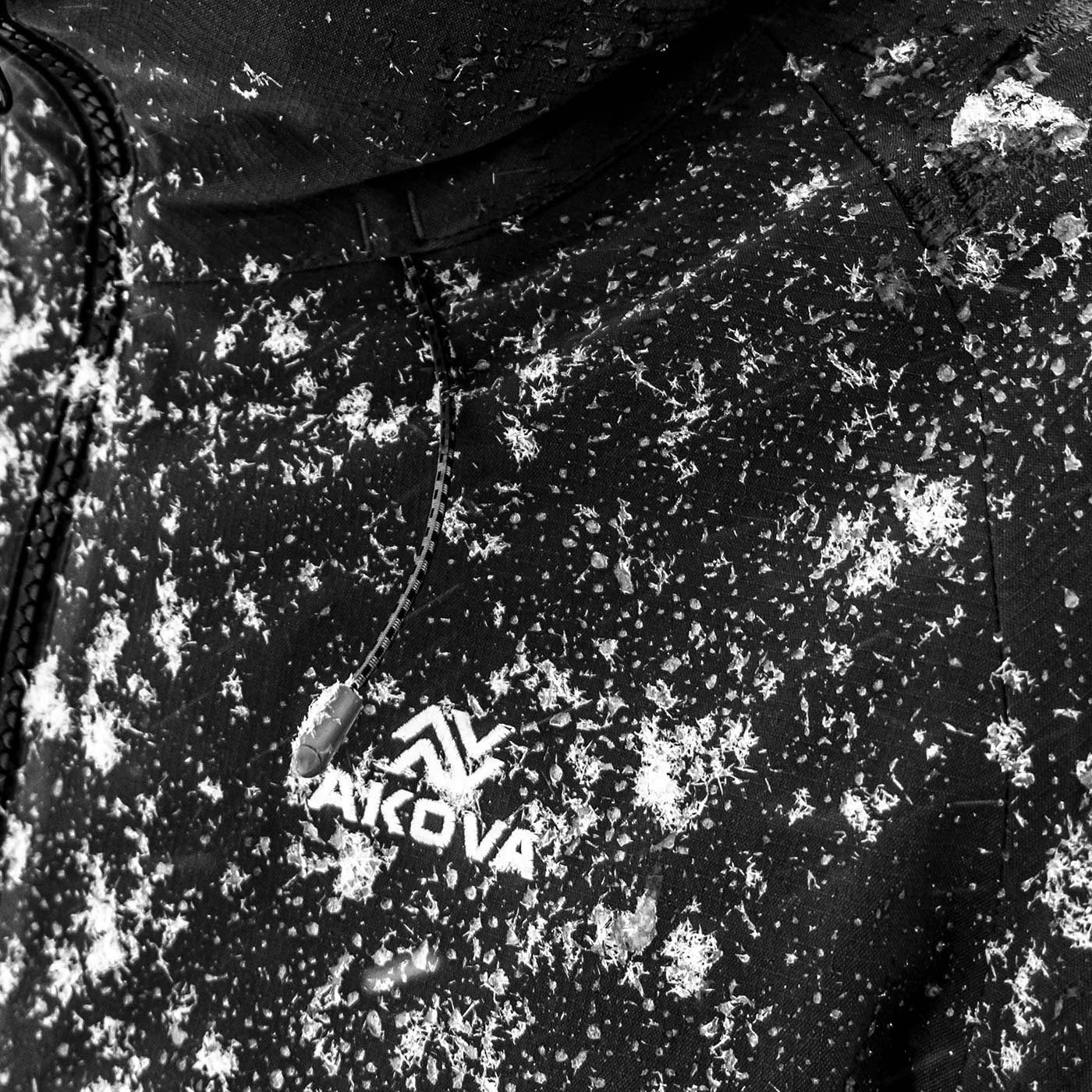 outer fabric (face fabric)
Bulletproof exterior
The face fabric is the first line of defense. It protects the exterior of the waterproof membrane, and it plays a large role in the overall durability of the product to rips and tears. To build a jacket that would last longer than others on the market we needed a face fabric that was damn near indestructible. Tough fabrics are not hard to find. However, tough fabrics with stretch that are still lightweight and don't have the crunchy shell feeling... Those are hard to find. We fell in love with Toray International Inc.'s 80x70 Denier Stretch Nylon 66 Primeflex fabric.
The primeflex fabric is coated with Toray International Inc.'s leading DWR (Durable Water Repellency). DWR's provide water resistance to the face fabric, but the face fabric is not the waterproof part, the membrane underneath it is. Over time, all DWR's will eventually "wet out," but the Torain hydrophobic membrane will continue to function, keeping you dry inside.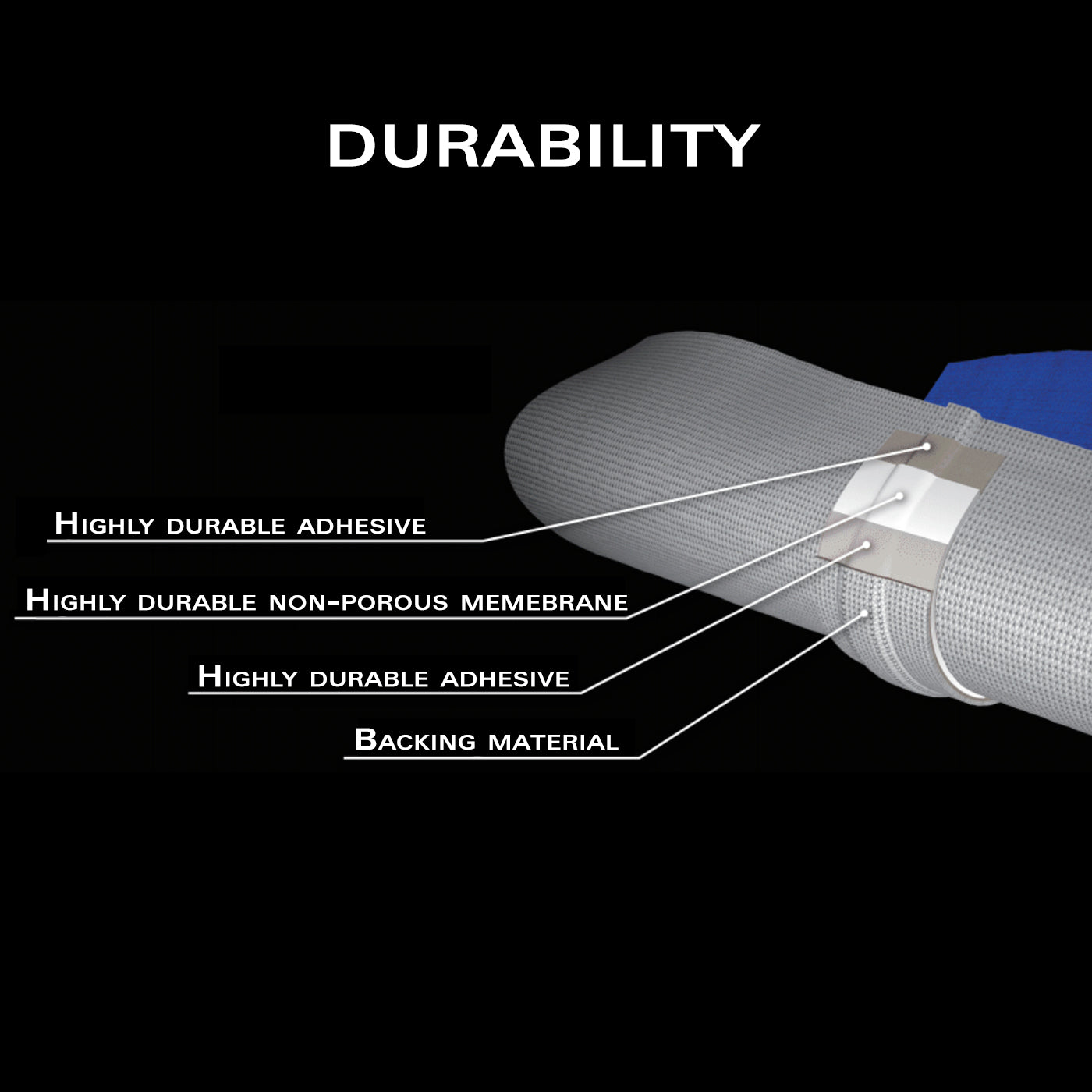 no weak links
Stitching, Seam Tape, Backing material
A chain is only as strong as its weakest link. For waterproof & breathable products that weak link is where all of the panels that make up a product are stitched together. Toray International Inc.'s proprietary sewing technology allows them to create stronger yet incredibly low profile seams. Every stitch of a seam punctures every layer of the fabric, including the waterproof membrane. Seam tape is added to the inside of a product after all of the seams have been sewn together to re-waterproof the seams.
The new specialized seam tapes TORAY International Inc. has developed last longer than conventional seam tapes by using a highly durable hydrophobic non-porous membrane and adhesive that combat hydrolysis (what causes seam tape to fail and delaminate).
The backing material was specifically developed and designed to work in conjunction with the membrane and the face face fabric. It protects the inside of the waterproof membrane from sweat, body oils, dirt, and debris, optimizing the membranes ability to maintain breathability in the harshest conditions. It is also designed to be as lightweight as possible to keep the overall garment weight down.
A longevity test that made sense to us
THE "JUNGLE TEST"
Lab testing does not always replicate real world conditions. However, we were intrigued and impressed by the test Toray International Inc. used to determine the longevity of the Torain fabric.
The proprietary Torain technology is unique on the market and the first fabric specificically designed to withstand hydrolysis.
To verify the durability of TORAIN® fabric and seam tapes, TORAY conducted a deterioration acceleration test, referred to as the "Jungle Test", to measure the deterioration of the resin membrane.
The sample is enclosed in a container with a high temperature (70°C / 158°F) and high humidity (95% RH) to artificially accelerate deterioration.
One week of the Jungle Test is estimated to be equivalent to one year of wear. The test was conducted for 10 weeks.
For the standard outdoor shell, hydrolysis began to occur at the simulated 1.5 year mark, beginning to compromise waterproof and breathability performance. Year 3 exhibits compromised performance & by the simulated year 4 it is fully compromised and no longer functional as a waterproof and breathable layer.
After 10 weeks of the "Jungle Test" TORAIN's unique resistance to hydrolysis was on full display. Being able to use a waterproof and breathable product for significantly longer than the average life cycle of general outdoor gear is a win for the environment and your bank account.
Remarkably, the Torain version on the right withstood the test, resisted hydrolysis, and maintained waterproof and breathable performance.
As you can see from the image below, the conventional water protection on the left suffered massively during this test, seam tape delaminated and hydrolysis compromised the waterproofing & breathability.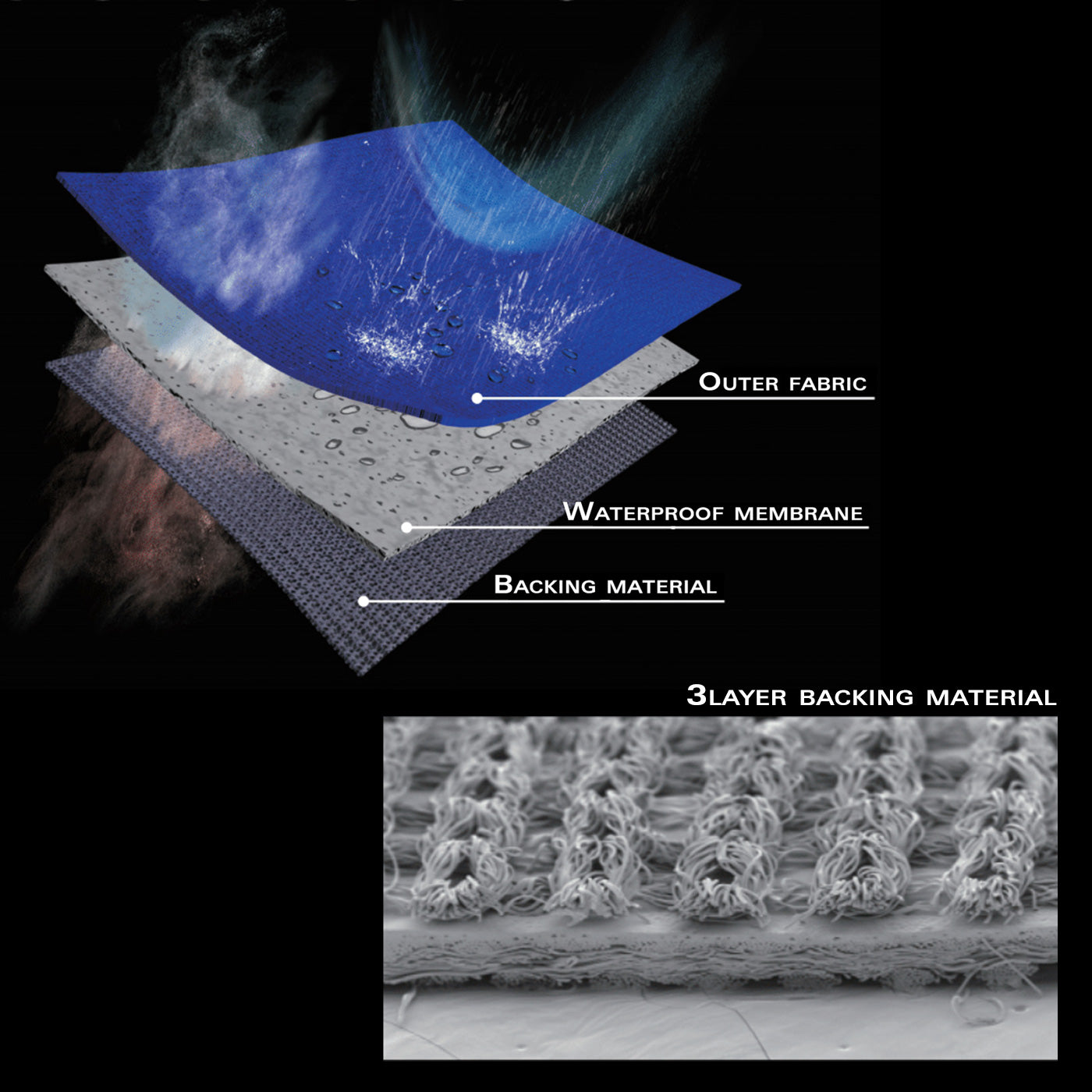 Waterproof & Breathable
Membrane
The primary function of a waterproof & breathable membrane is to keep you dry, both from external moisture (rain or snow) and internal moisture (sweat). The torain hydrophobic membrane has lab tested ratings of 20,000mm waterproofness and 10,000mm breathability. There are other membranes on the market that have higher lab generated ratings. If all we cared about were high lab ratings, Toray makes other membranes that perform better in the lab conditions where waterproof and breathability testing is conducted. We could have used those. But our decision wasn't going to be based on lab ratings. It was based on real world testing and input from Toray's scientists that told us this combination of Torain® materials would provide the most consistent performance, for all weather conditions, temperatures, and exertion levels, and last longer than anything else on the market.
The membrane we chose does not allow as much moisture vapor through it in a controlled sterilized laboratory over a 24 hour period as other membranes available (how breathability lab testing is conducted). These membranes that perform well in the lab, we have tested their real world performance too. They failed in the harsh real world testing we put them through.
Torain's membrane performance is unaffected by cold or hot temperatures. The unique construction of the membrane will not swell when exposed to sweat from the body that has not yet been turned into moisture vapor. Saturated face fabric, no problem. Like you probably are now as you read this, we were skeptical at first. The outdoor industry has convinced everyone that the only way to judge waterproof and breathable product performance is by outdated, uncontrolled and unsupervised tests that don't replicate real mountain use.
After years of taking our prototypes out in the mountains and testing them in the most severe storm conditions while skiing and snowboarding we had to agree with them. Anyone who tries this product will agree that it's real world performance is unlike anything else on the market.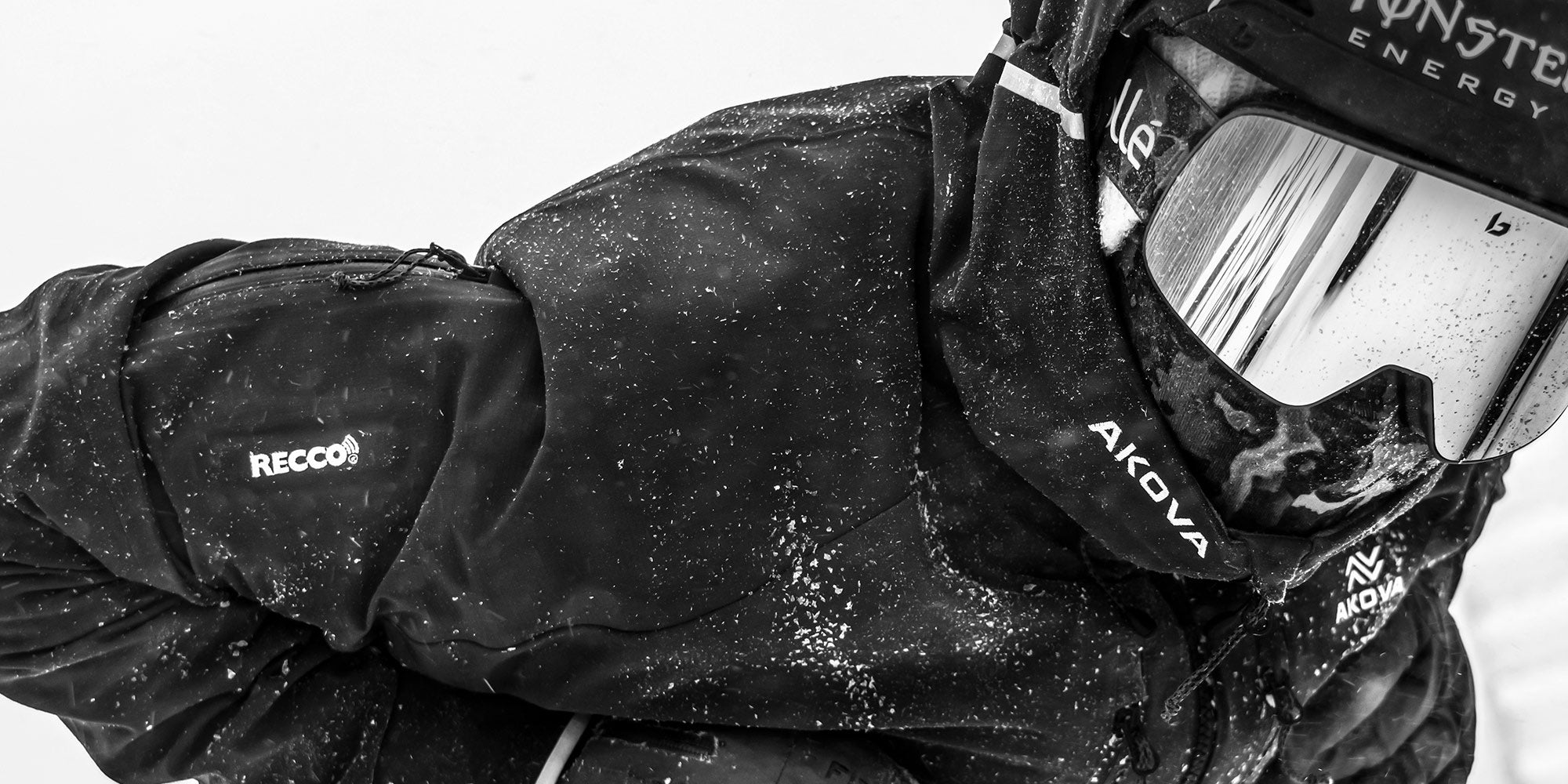 our promise to you
100% COMFORT GUARANTEE™
We are so confident in the performance of these products that we back them with our 100% Comfort Guarantee™. If our products don't keep you comfortable then we failed our mission and we will make it right.
If you are not completely satisfied with the waterproofness, breathability, or overall performance, depending on the issue, we will repair, replace, or simply take back the gear and issue a refund*. All craftsmanship and any manufacturing defects are of course covered by our Lifetime Limited Warranty.
push it to the limits | David Wise & Julia Mancuso
videos | real life testing by olympians