Exceptional heat retention in a lightweight, packable design, coupled with stretch fabric and stitching with unparalleled freedom of movement and breathability. A game-changer for synthetic insulation. Perfect for layering under your hardshell for winter sports, as a stand alone jacket for any outdoor pursuits, and the timeless style suits everyday wear. Created in collaboration with Olympic Champion David Wise, featuring 3DeFX® and stunner stretch technology from Toray International Inc. David and our teams rigorous testing in every condition imaginable ensures unmatched performance, durability, and precise features.
The outcome? Your new go-to jacket, providing unrestricted freedom of movement and warmth without stuffiness, even during intense activities.
• 4-way stretch
• Body mapped 3DeFX+ insulation (40/60gsm)
• 3DeFX+ incorporates 4 types of spiral fibers for ultimate thermoregulation
• Lightweight synthetic insulation retains heat, even when wet
• Made with 50% recycled insulation
• 6 purposefully designed quick access pockets
• Stretch cuffs
• Dropback hem
• Dual drawcord adjusters at hem
• Karuishi fleece side panels for extra mobility and breathability
• Ultra-soft water repellant face fabric
• YKK zippers
• TORAY® Stunner™ Stretch Nylon Fabric
• Lightweight and Compact Technology
• TORAY® Durable Water Repellency (DWR) Treatment
• Body Mapped 3DeFX+™ Insulation (40gsm sleeves, 60gsm body)
• KARUISHI® Fleece Panels
• YKK® Zippers
• DURAFLEX® Hardware
• FUJIX® Resilon Nylon Stretch Thread
• Nylon 6/6 Cording

Outer - 100% Nylon
Side Panels - 100% Polyester
Cuffs - 82% Polyester / 12% Spandex
Liner - 100% Nylon
Insulation - 100% Polyester
Total Weight - 9.6oz (Size Medium)
LIFETIME WARRANTY
We stand behind our product quality and warranty the craftsmanship of all of our products for the lifetime of the product within your family. 
HASSLE-FREE RETURNS / EXCHANGES
We want you to be 100% satisfied with your purchase. If you are not completely satisfied when you receive our products, you can exchange or return them to us at our cost. 
BETTER GEAR. BETTER VALUE
We have over 16 years of experience designing and manufacturing award-winning, expedition-grade outdoor gear and we started SHRED DOG to make higher performance gear for kids so that they can be comfortable on the mountain, all day long, no matter the weather. By selling directly to our customers and eliminating the middleman retail markup, we are able to use higher performance materials, include more technical features usually only found on adult gear, innovate with kid-centric designs and features, and deliver products at a lower price.
DAVID WISE SIGNATURE PRODUCT
LAYER FOR THE COLD
DAVID WISE SIGNATURE PRODUCT
ADVENTURE READY
Our Promise to you
100% comfort guarAntee™
Use your gear with the confidence of our 100% Comfort Guarantee™. If our products don't keep you comfortable then we failed our mission and we will make it right.
If you are not completely satisfied with the waterproofness, breathability, or overall performance, depending on the issue, we will repair, replace, or simply take back the gear and issue a refund*. All craftsmanship and any manufacturing defects are of course covered by our Lifetime Limited Warranty.
3DeFX+® TECHNOLOGY BY TORAY INTERNATIONAL INC.
REDEFINING WINTER GEAR
Our journey began with a singular mission:
craft the ultimate winter gear
We set out to harness the finest fabrics and manufacturing facilities to create the pinnacle of winter sports gear without being constrained by price points set by retailers.Every design decision was solely made around "we only want the best." We were able to create this jacket at a reasonable cost to youby eliminating retailers and retail markups, passing those savings on to you.This is why you can only buy directly from us on our website and our products are not available at any 3rd party retailers or stores.
selecting the right partner
TORAY INTERNATIONAL INC.
Based out of Japan, Toray International Inc. has a vertically integrated structure that gives them a unique ability to design and produce custom textiles that solve specific real world issues. 3DeFX+® is a garment concept that brings together a unique combination of fabrics, insulation, and sewing technology for elite performance in a wide range of conditions and exertion levels paired with unmatched breathability and durability. This technology enables us to create warm, ultralight, breathable, stretchable, packable insulation that can be paired with our waterproof, windproof, and breathable hardshell for an extremely versatile winter layering system.
DESIGNED TO LAYER OR STAND ALONE
next generation insulation
Keeping athletes comfortable during cold weather is a challenge. Insulation jackets, while warm, can become stuffy when you start sweating during exercise. Toray has innovated the entire insulation production process to solve this problem, ensuring comfort throughout physical activity. 3DeFX+™ represents a next generation solution, achieved by blending advanced technologies across fibers, insulation, fabric, and stitching.
the arctic fox - inspired by nature
Warmth
In the unforgiving Arctic environment, where Arctic foxes brave extreme cold, 3DeFX+ found inspiration in their two-layered fur structure. Emulating this natural marvel, 3DeFX+ incorporates 4 types of multi-denier, hollow-core, spiral yarns with a layer of thin yarns close to the body and a layer of thicker yarns towards the exterior. The 3D spiral structure enables a lighter, thinner layer of insulation to capture more insulating air between the fibers, unlike anything else on the market.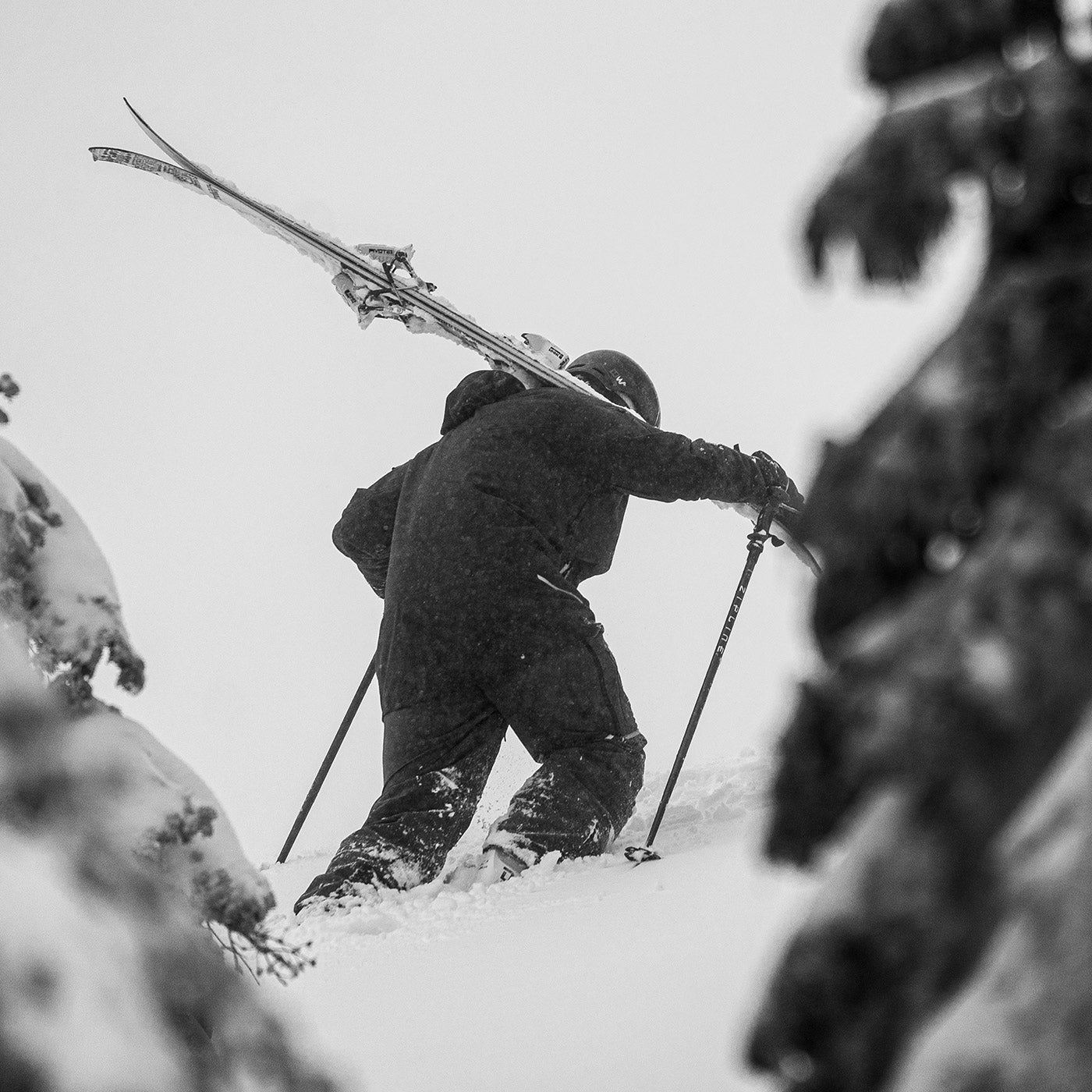 STAY COMFORTABLE BOOTPACKING, RIDING THE CHAIR, AND DESCENDING
THERMOREGULATING
The 3D spiral structure of 3DeFX+ enhances its ability to capture and hold air. Air is an excellent insulator, and the trapped air within the insulation acts as a thermal buffer. It can absorb excess heat from the body when you're warm and release it when you're cold, helping to maintain a comfortable temperature. This thermoregulating effect keeps you warm in cold conditions and prevents overheating when you're active, making it an excellent choice for a wide range of outdoor sports and weather conditions.
ADVANCED TECHNOLOGY & A PERFECT FIT
Refined for Movement
made to push the limits
stretchable & breathable
Innovative materials and design allow 3DeFX+ 4-way stretch without compromising warmth or breathability. The 3D spiral structure enhances this multidirectional stretch, providing 360-degree flexibility without any fiber migration. Unlike typical insulation, 3DeFX+ doesn't require fabric coatings and non-stretch fabrics to prevent insulation migration, allowing for the use of stretch fabrics with significantly higher breathability in both the interior and exterior of the jacket.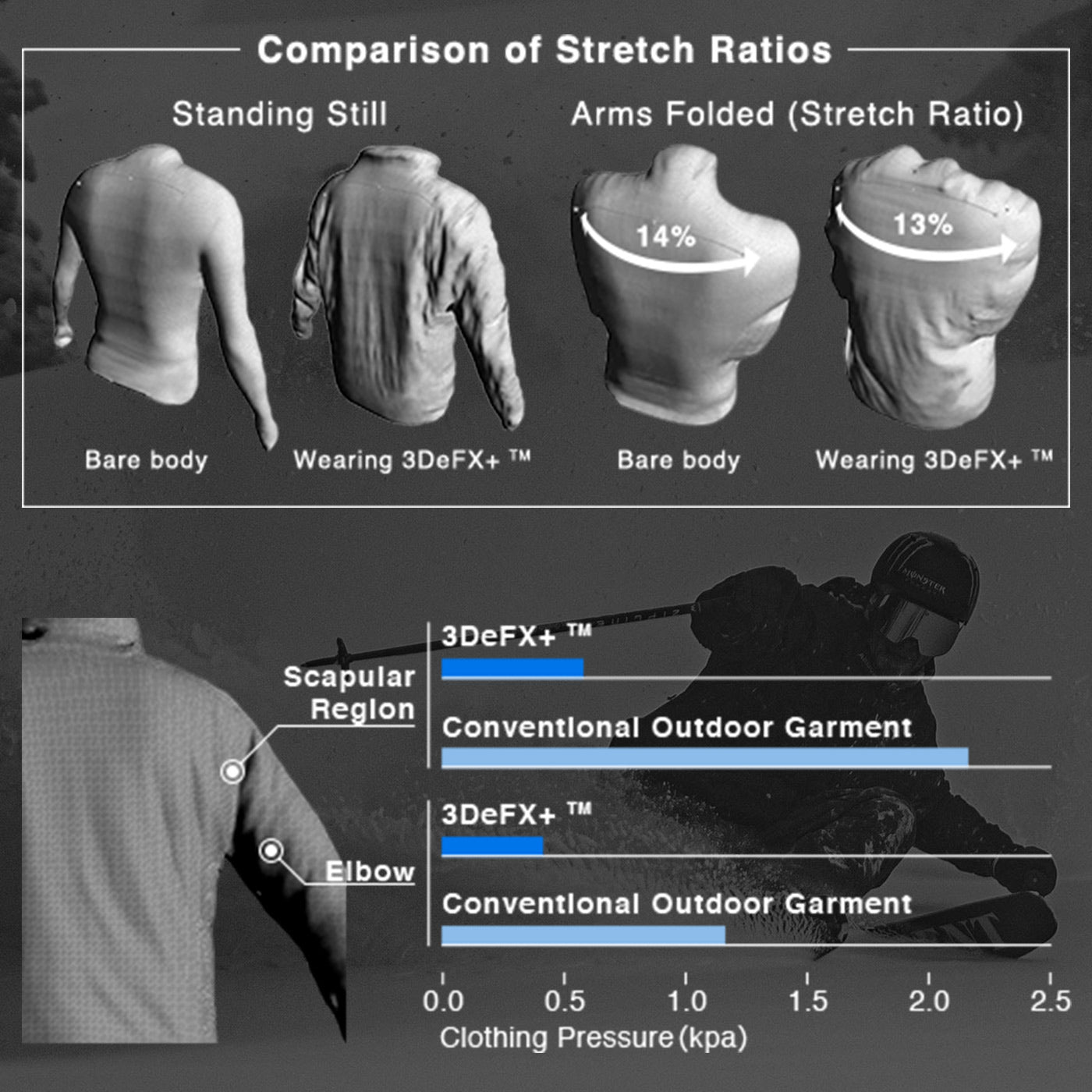 as if you aren't wearing anything
warmth without restriction
The top comparison reveals stretch ratios for both outstretched and folded arms, whether the body is bare or clad in 3DeFX+™ insulation— the outcomes are nearly indistinguishable. The inherent stretch of 3DeFX+™ seamlessly adapts to the body's natural positions and movements, ensuring a comfortable fit and wearability that mirrors the body's motion effortlessly.
The lower graphic analyzes clothing pressure, employing the folded arms (air-packed method), 3DeFX+™ records a measurement of less than 1 kpa, roughly equivalent to one-third of the clothing pressure typically associated with conventional outdoor attire. This translates into an elevated level of comfort and freedom of movement, setting a new standard for wearability and ease of motion.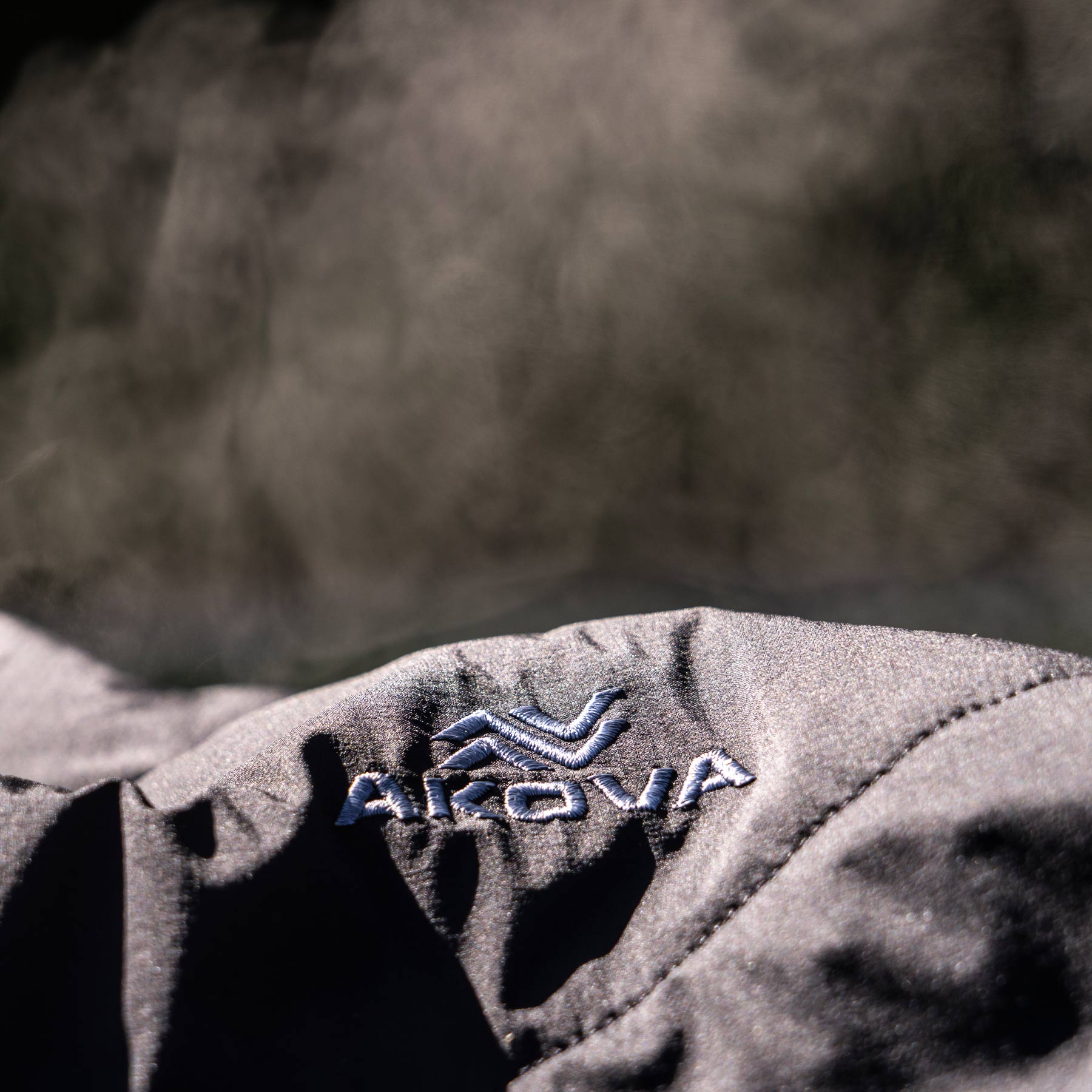 the most challenging conditions
built for bad weather
Engineered to endure the most challenging wet conditions while maintaining warmth. Alongside an external DWR coating on the face fabric, a specialized 30% silicon yarn on the insulation's surface repels water droplets, preventing them from permeating the insulation and preserving heat retention. One of the benefits of synthetic insulation is that it can continue to retain heat when wet. However, when other synthetic insulations become saturated their ability to retain heat is significantly reduced.
INSULATION & FABRIC COMBINE FOR UNMATCHED PERFORMANCE
Tough but Luxurious
Stunner Stretch Nylon fabric, encapsulating 3DeFX+ insulation, offers enduring durability, next-to-skin comfort, breathability, and remarkable stretch. The innovative 3D spiral structure and fiber stability of 3DeFX+ eliminates the need for traditional fabric coatings, ensuring unmatched breathability without the typical stuffiness, shine, or crunch. Enhanced breathability complements moisture and temperature control, guaranteeing comfort during intense activities. Fortified by Toray's DWR coating for water resistance, this fabric's versatility caters to diverse outdoor pursuits, from skiing and riding to hiking, biking, trail running, and beyond.
PREMIUM FEATURE - no ordinary fleece
fleece side panel
Plush Karuishi fleece is of blend of warmth, breathability, and stretch throughout the side panels. Its unique structure allows air circulation, regulating temperature and moisture. This results in greater comfort during activities while maintaining insulation. Additionally, Karuishi fleece boasts exceptional stretch, ensuring freedom of movement.
comfortable, secure fit
stretch cuffs
Adjustable fit to keep the cold out
dual hem adjusters
internal: chest pocket, dump pocket, zippered storage pocket
a place for everything
stretch underarm fleece panel for
ENHANCED comfort & mobility
soft lined deep hand pockets
for when you need to warm up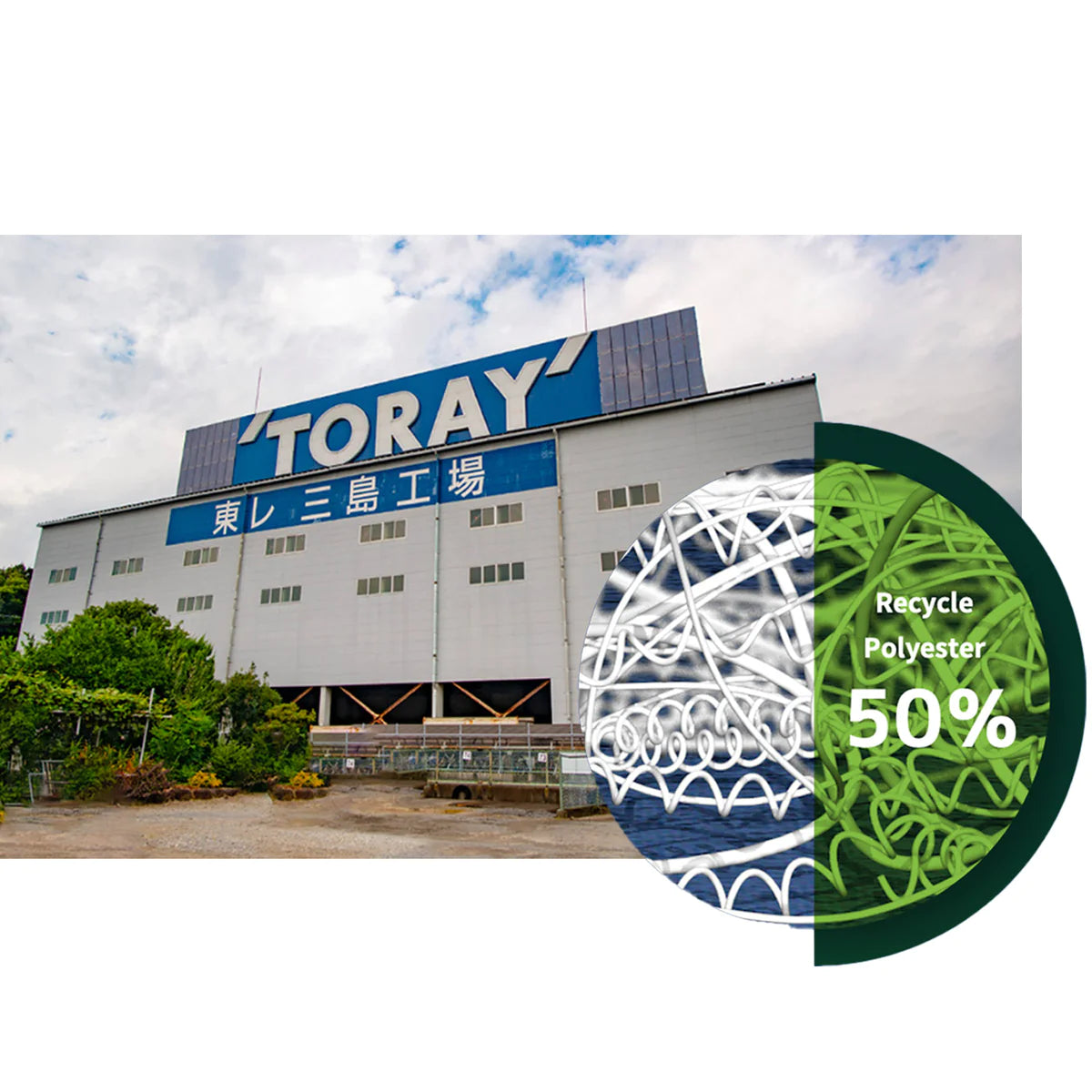 SUSTAINABILITY THROUGH DURABILITY - KEEP YOUR GEAR OUT OF THE LANDFILL
50% recycled insulation & engineered to last longer
3DeFX+ insulation was able to achieve a recycled rate of fifty percent without compromising existing functionality. The stunner stretch nylon fabric adds enhanced durability for an insulation piece. We design all of our products to be as durable as possible, to meet our performance needs, and are always looking for options that are better for the planet and the wild places we call home.
Gear that endures, like our Legacy collection, is a sustainable choice by eliminating the need for frequent replacements due to compromised performance or overall product durability. Constantly producing more products with short life spans creates excess waste. Anything that can be recycled from non-durable products does still have an environmental effect to make it usable again. Anything that cannot be recycled ends up in a land fill. Creating rugged, high performance, long lasting products is an eco-conscious approach, aligning with our commitment to environmental responsibility.
We envision a circular commerce system that eliminates waste and pollution, giving used clothing a second life. Enter AKOVA RENEWED™️, our gear renewal program. It empowers customers to trade in their used gear, receive a 30% discount off their next purchase, and shop for quality used apparel.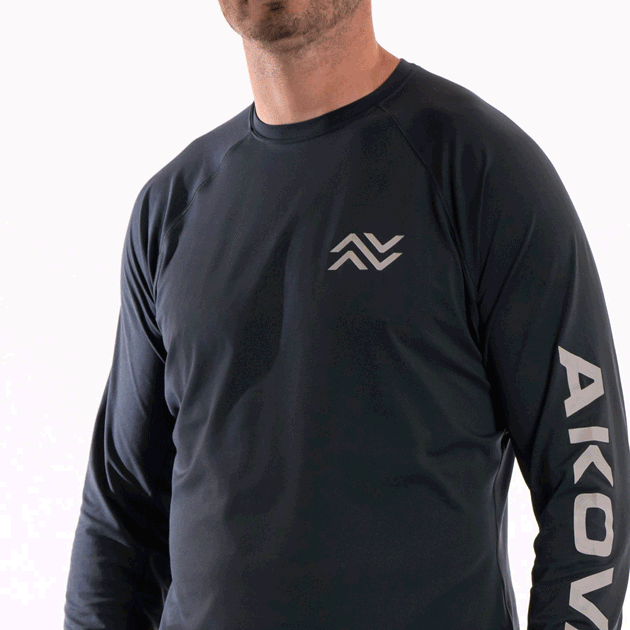 BUILD YOUR CUSTOM SYSTEM
winter layering
We wanted a layering system that was simple, specifically designed for high output winter sports, and versatile for a wide temperature range.
Baselayer - Men's LS Crew: Graphene fabric technology provides thermoregulating next-to-skin comfort and effectively moves moisture away from the skin keeping you dry and comfortable
Midlayer - Legacy Insulator: Warm but extremely breathable synthetic body mapped insulation
Outerwear - Legacy Hardshell: Rugged and durable protection from wind and rain
David has put this three-piece setup to the test in sub-zero training and competition conditions, with demanding intervals followed by extended waits. These layers excel by efficiently wicking moisture away from your body and out of the system while preserving the ideal amount of warmth.